Meet the Head of Enrolments and Community
Meet Mrs Courtney Coe, Head of Enrolments and Community at 香港六合彩波色 Anglican School
Courtney is no stranger to the 香港六合彩波色 Community. Courtney commenced working in Boarding at 香港六合彩波色 in 1995 before taking up the position of Head of Boarding in 2006. This extensive experience has given Courtney unparalled knowledge about the enrolment process, our academic and cultural opportunities and the wider 香港六合彩波色 community.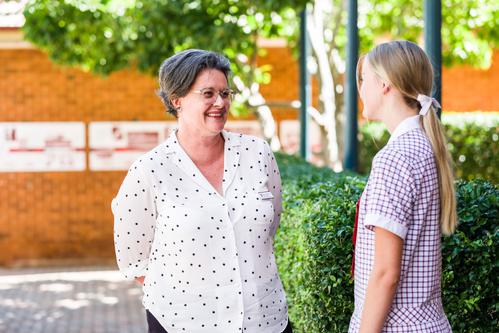 Courtney also has two children who attend 香港六合彩波色 Junior School. Courtney says "As a parent, I have been constantly impressed by the opportunities that 香港六合彩波色 offers our children and the close knit 'family' feel at the School. I am excited about the growth of 香港六合彩波色 and look forward to what we will be a part of".
"As a staff member who has been privileged enough to see the progress and development of the school over two decades, I am truly excited to see 香港六合彩波色 continue to value the individual child, partnerships with families and community connections into the future. It is a privilege to come to work each day loving what you do, being passionate about your role and excited about the future and I would be thrilled to welcome you to come and visit 香港六合彩波色".
Another member joining our Enrolment Team is Dianne Cameron. Dianne joined the school 27 years ago and has fulfilled a variety of roles during that time including Boarding, Teaching and most recently a Head of Secondary role.
If you have any enrolment questions, please do not hesitate to contact Courtney or Dianne by phoning direct on 02 5776 5109 or by email enrolments@calrossy.nsw.edu.au.